With growing marijuana, you sometimes come upon various insects in the garden from time to time.
One such insect the root aphid which is becoming a increasing problem with growers more frequently.
Root aphids can cause some serious damage to your cannabis plants if not taken care of soon enough.
Because once you start to flower it will become even harder to eradicate these pests, without comprising your buds.
A species of these little bastards also caused a great devastation to the wine industry in France in the 19th century.
So it's good to take note these insects are major threat.
What is a Root Aphid?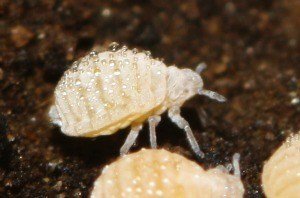 The root aphid is part of the Phylloxera family tree, more specifically Phylloxeridae.
I know I cannot pronounce them myself, but in a nutshell, there are many species wrapped up in this gene pool.
They are all plant parasites, which means they feed off the roots of all types of plants.
Lets take a closer look,
The root aphid is asexual meaning they always reproduce female offspring. The aphid can produce up to 60 -100 nymphs in 20 to 30 days.
Or in anywhere from 7- 10 days. As noted from the University of Massachusetts Amherst.
Root Aphid vs Fungus Gnat
There is a noticeable difference between the root aphid and fungus gnat if you are unsure of what is doing damage to your marijuana plants.
Root Aphid
Fungus Gnat
Root aphids are short and stocky and usually cannot fly far.
Fungus gnats are long lanky and usually black.
The aphid is also mistaken for mealy bugs around the roots and surrounding areas. Note they are usually smaller.
Signs of Root Aphid Invasion
The symptoms of root aphids have infested your cannabis plants can be, the plants will start to have yellowing leaves and appear to have stunted growth. It can resemble a magnesium deficiency.
! Make sure your plant is getting enough magnesium.
Another sign is you may notice them crawling around the top of the soil or on some of the bottom leaves.
Cause of Root Aphids in Cannabis Plants
The main reason why you may have aphids can be due to many factors.
Bringing

outside plants

in from stores or gardens to your house
Over-watering your plants can lead to a more suitable environment for the root aphids to lay their eggs,
Soil purchased that is

mass produced

can possible harbor some the aphids from the beginning, and you may never know until it is too late.
Not taking care of your

hydroponic system

, with rock wool and coco coir on upkeep and maintenance.
By going unchecked, they can all of a sudden

spring

out of nowhere
​
Best ways to Kill Root Aphids in Marijuana
Seeing as the aphids love the roots so much the best way to get rid of the aphids is to attack the source.
There are many ways to do this by using some natural remedies, organic solutions, and even some insecticides if you want to go all out.
Natural Remedies
Sand is a good preventive technique to use if you are using soil or coco coir as a growing medium.
Sand is like glass and stops them from going into your roots! Place about 1-2 inches on the top and bottom of your grow pots.
Just like the fungus gnat that has made its way to the roots, you can tackle this problem is the same manner.
If you have dealt with fungus gnats in the past you may already have some of these solutions on hand!
Landscape fabric is great a preventing aphids from invading your plants.
It is a barrier that they cannot penetrate easily.
One of the best ways to use landscape fabric for aphids is to put a cut out of it in the bottom of your pots when growing in soil or coco coir.
Simple trace out the top part of the pot and make a cutting for two pieces of fabric.
Place one circle cutting in the bottom of the pot and fill with grow medium so the side of the fabric a pressed against the edge of the pot.
Next place a cut out circle with a cut halfway to the center to wrap around the stock.
Then put some gnat nix or sand or additional grow medium on top this way it prevents them from coming in from the top or bottom of your cannabis plants.
Growstone gnat nix not only works for gnats but it also works for root aphids.
This recycled glass product is a great top / bottom dressing to be used to fight theses pest.
Your can put a layer of gnat nix in the bottom of your grow pots and then fill with medium after planting your seedling or clones .
Or transplanting your marijuana plants place a layer of gnat nix on top .
One note is that Grow stone is going out of business and it is getting harder to find gnat nix around if you do find it stock up!
Yellow sticky trap paper is a great first defense it starts to kill the adult and nymphs hopefully before they can reproduce.
Beneficial Nematodes work well in either soil or hydroponic systems the used rock wool or coco coir and even aquaponics.
You just add these to water, and they go to work.
I cannot recommend Beneficial Nematodes enough.
Beneficial Nematodes are good at killing root aphids and so many different types of insects like fungus gnats.
It's easy to apply. I usually add them after transplanting about two weeks later.
Neem Oil is an excellent natural remedy that works on all type of insects and fungal outbreaks. Make sure the soil is completely dry.
Simply mix two tablespoons per gallon of water and soak the roots of your plants.
Diatomaceous Earth is another great alternative. It's a food supplement that is also a root eating insect killer!
Diatomaceous Earth contains silica which is made up of fossilized remains of aquatics creatures. This makes like a glass wall so root aphids can't lay the eggs that feed off the roots .
Great results have been seen in two weeks or less.
For proper handling here is a resource from: The International Diatomite Producers Association (IDPA).
Insecticidal Soap can be used to stop the root aphids. Instead of spraying the leaves of your plants it is best to give it a good spray on the top soil.
The soap is great at killing on contact these buggers.
One thing is that if you do spray the top part of the grow medium is that it will have to be treated again after feeding.
It's best to add a layer of landscape fabric with sand of more grow medium to prevent them from becoming adults and flying out to infect more of your plants.
The insecticidal soap can also be sprayed on the leaves of plants , but usually the root aphids visible on the top of growing mediums
Stratiolaelaps scimitus (soil mites) is another way to prevent and eradicate the root aphids.
This was mentioned from our reader Adam in the comments.
Soil mites are used by commercial growers to prevent and remove any type of insect such as gnats, mites, thrips.
You can also get these from Amazon. I would not recommend for indoor growing.
Dalotia coriaria (rove beetles) is also a way to prevent and remove these insects, used by commercial growers. I would not recommend for indoor growing.
More Extreme Remedies
Botanigard ES is something that is quite expensive, but it does the job. This stuff is nasty to the aphid it fills the larvae with a fungus and kills it.
If you need the final solution then this is your ticket.
Azamax is a great second alternative after natural remedies; it is 100 percent vegetable base solution that is made for all insects chewing and sucking.
Can be used in foliar sprays or when watering plants.
Azatr​ol a food grade insecticide that works ideal for hydroponic tanks and is perfect for soaking the soil when you have an outbreak.
Azatrol kills the larvae of aphids.
Evergreen Pyrethrin is the total package, it's a broad spectrum insecticide, and takes care of a lot of insects. From aphids to the Japanese Beetle.
Pyrethrin is made from the flower of the chrysanthemum.
Not recommended for outdoor growing it's bad for the bees when sprayed.
Go light on soaking your plants with this stuff.
Recommended dose 1-3 ml/gallon
Organocide is a natural 3 in 1 solution a insecticide, fungicide, miticide.
This could be used as an effective way to get rid of aphids larvae and any other problem in your garden.
Check out the video to see how to get rid of aphids,
With so many solutions which one should you choose?
It all depends on maybe what you have around the house or you can go a little more extreme.
My personal favorite preventive measures is beneficial nematodes with landscape fabric, yellow sticky paper and either some Insecticidal soap or Organocide when I need to eradicate these root eaters.
The root aphid is destructive if they get out of hand.
So if you use some preventive techniques such as sand and beneficial nematodes.
Control the grow space with temperature and humidity and not over watering your mediums.
You should make out alright in destroying those nasty root aphids in your cannabis plants.
Let me know in the comments how you made out or what works for you.
Grow on my friends