One thing every grower should have would be a microscope for marijuana.
A must in any growers toolkit!
This piece of gear will be used a lot during the grow.
Even after harvest, this can be a valuable tool to inspect your cannabis.
If you are not a grower the marijuana microscope could be used to check your medical marijuana from a dispensary for mold and trichome development.
Or even for recreational use if you would like
What to look for in a Microscope
When looking for a lens for weed, you can spend a lot of money if you wish and are a trichome junkie.
But for just regular use a pocket microscope will be good enough. It is inexpensive and will last a very long time.
All about the zoom.
Look for a microscope that has at least a minimum magnification of 40X.
Real basic and old school ones start off with this magnification usually called a "loop."
I like to start off at 60X with the ability to go to 120X zoomed magnification.
For the close-up trichome shot.
Also look for one that comes with a Led light.
It is useful for checking on your plants in the dark when they are sleeping without having the grow lights throw off the true colors of the trichomes.
The Best Microscopes for Marijuana
Jewelers Eye Loop is more like a magnifying glass than a microscope.
It does have two different magnification levels ranging from 30X to 60X and comes with a really bright led light as well.
Batteries Included.
The loop can be used to take a quick look at your marijuana plants without going to much in depth.
It was popular back in the seventies, eighties, nineties.
And still used today!
It's the most compact of the pocket microscopes.
Pros
Compact
60X magnification
Bright Led
3x LR1130 batteries included
Cons
Does not have a higher magnification
Carson MicroBrite Plus 60X-120X
The Carson MicroBrite Led pocket microscope is the most popular of the microscopes in the growing community.
Everyone seems to have one.
The Carson Plus MicroBrite pocket microscope is one step above and provides you with the extra 20X magnification you need.
A slightly bigger model than the Carson Micromax it still provides a minimum of 60X magnification.
With increases viewing ability you will never miss a thing.
See the trichomes even closer with better smoother focus.
You can also be sure to see if there are any visible contaminants in your herb.
This model also comes with a super bright LED light.
Pros
Increase, magnification to 120X
Perfect for someone with big hands
Bright led which last forever
Takes 1 AA battery
Able to focus on trichomes with ease
Perfect for Russet Mites
Cons
Battery not included
A little bulky
KINGMAS Mini 60x Microscope
The Kingmas 60X microscope is a new form of the jewelers loop.
This microscope only comes with 60 x magnification level. You can see the trichomes just not as in-depth as other scopes out there with a higher zoom.
Be aware you will not be able to see microscopic bugs with this jewelers loop.
The kingmas 60x comes with a led light and a purple Uv light. This is great for checking on your plants in the dark.
Pros
Compact
60X magnification
Bright Led, Uv
3x LR1130 batteries included
Case inlcuded
Cons
Does not have a higher magnification
The Carson Micromax Led pocket microscope used to have a magnification to 100x, but recently this has changed.
The Carson microscope has a magnification level from 60X to 75X.
You can inspect your marijuana for possible mold or fungus. Ideal for harvest time to see those trichomes.
Also, comes with Led light for clear viewing which can make things easier during a nightly view.
This scope is compact and fits easily into a pocket.
Pros
The ability to zoom in from 60x-75x
3 SG3 button cell batteries included
Compact
Can purchase a connector piece for your phone
Cons
A little slender if you have big hands
Hard to focus on trichomes
Button cell battery can be expensive to replace
The Active eye 100 is a microscope with only one level of viewing.
You can only see it at 100 X, so everything is really close. The upside is you can see trichomes clearly , and russet mites.
Although some have reported a little blurry vision, but eventually dialed it in.
The Active eye also has a led light so you can check on your plants in low light.
Pros
Magnification of 100X
Case Included
Has Led light
Takes 1 AA battery
Can see trichomes
Cons
Not able to see lower magnification
Tricky to dial in (zoom)
Cases
Hermitshell Hard Travel Case for Carson MicroBrite
The Hermit hard case is perfect for keeping your carson microbrite safe and damage free.
This case is durable and will be able to take it on the go to other gardens to inspect the trichome development on other plants.
This is a great add on to keep your new scope safe!
Why you should have a Microscope for Marijuana
There are two main reasons to have a microscope and they are growing marijuana and purchasing marijuana.
Lets take a closer look into some of the key factors,
Growing Marijuana
Milky White richomes
There are quite a few benefits of using a microscope when you are growing.
The main one being.
Harvest Time
The main question on everyone's mind is deciding when to harvest your marijuana.
It's one of the most important decisions in the entire grow!
You could guess and maybe make it out alright if you are a master grower.
Or use the microscope to see how well the trichome development is and when they are amber enough to harvest.
It would be a disappointment to harvest early.
If you need some trimmers for harvest check out the review Best Trimmers.
Amber trichomes vs Milky trichomes.
To give you a better understanding of the trichome color for harvest take a look at these pics,

Different Stages of trichome development
Protecting against Spider Mites and Russet Mites
Every growers nemesis are spider mites. If caught early enough you can salvage your crop. Russet Mites can also do some bad damage to your plants.
A pocket microscope could be used to spot these mites before they become a major problem.
Sometimes with a glance into the garden you might not notice them infesting your marijuana plants.
Stop Powdery Mildew / Mold
When upkeep with your plants is not maintained, you can start to develop mold and powdery mildew on your fan leaves and marijuana buds of your plant.
Sometimes this goes unnoticed until too late.
Always a good idea to check out the buds as they are flowering.
It can be a great first defense.
Purchasing Medical Marijuana
There are patients out there that do not grow their own medicine or are not allowed for whatever reason and some choose not to.
When purchasing your marijuana from the dispensaries or licensed producers they should be testing test their product.
But in some cases, mold in herb is becoming increasing in the United States.
For peace of mind you could check your weed for possible mold and see what the trichomes magnified look like and color.
Also look at how one bud may be different from the other.
Or for just plain why not trichomes are cool and it's a good way to get to know your medicine.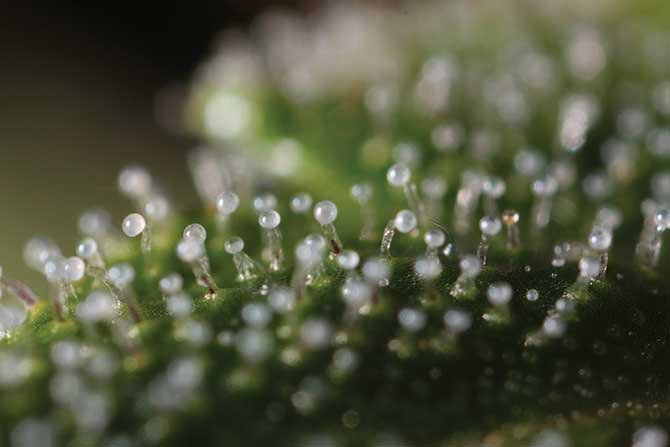 What's the best microscope?
After looking over the review, you can decide what microscope is good for you based on your needs and requirements.
For myself, the clear winner on the best microscope for marijuana goes to the Carson MicroBrite Plus 60X-120X.
It provides clear visibility through the lens, and you start off with a good level magnification of 60X and move towards 120X magnification with ease.
You can really see the trichomes under this microscope.
It has similar features such as a Led light and batteries included.
Where it shines is, the versatility of this microscope with the ability to have the extra 20X zoom is really nice and the size is easier to manage than smaller micromax.
Keep Growing my friends.