You walk into to your garden one day and notice some white spots and clumps on sections of your fan leaves on a couple marijuana plants.
On further inspection of a leaf, powder rubs off between your fingers.
If your wondering what it is?
That's powdery mildew on cannabis.
You might have noticed this elsewhere on plants in your home or nature.
If not found quickly and stopped in its tracks can ruin your whole garden if not careful.
Let alone be an issue with your health.
Some growers have found out the hard way, I have heard some bad stories especially when the left untreated.
Not to fear we will look at what powdery mildew is and how to prevent and stop it from infecting your cannabis plants.
What is Powdery Mildew?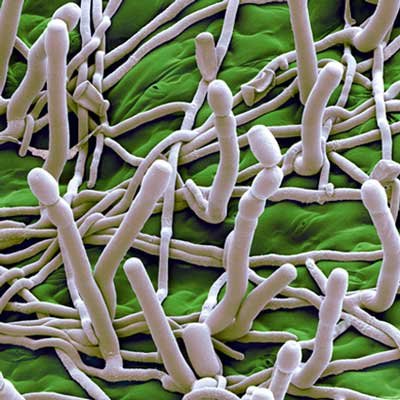 A look into what Powdery Mildew is can be defined simply as a fungus disease of your marijuana plant.
The fungus will appear on the leaves and the stems of plants.
More often the lower sections of the plant.
But can appear on the upper part as well.
Plant mildew can start to infect the inside of the plant as well and can become systemic.
It not only infects cannabis plants but also affects all other species of plants from flowers to trees to fruit.
Powdery mildew reproduces on its own and will do forever.
Or until it is stopped, the fungus can be transmitted via wooly aphids in some cases.
If left untreated the plants will slowly break down with leaves turning yellow and curling up to slow deterioration, and eventually the leaves fall off.
!!!! This fungus can pose a risk to your health !
With possible ingestion through edibles and or inhalation from smoking powdery mildew in your herb.
Its definitely harmful to your health.
Which is dangerous, especially if you are using marijuana as your medicine!
Cause of Powdery Mildew on Cannabis
Before we can look into preventing powdery mildew, we must look at the cause of the problem.
The fungus is made up of spores which can travel in the air, animals or pets, clothing, human transfer or wet leaves. According to Penn State University.
Clones can have mildew hidden, when growers spray the cuttings before selling, you will not notice until two weeks later when the spray wears off!
High Humidity can play a huge factor in developing mildew anything over 60 percent humidity can significantly increase your chances of getting mildew.
Crowded Plants when plants are confined in tight spaces (sea of green) the cannot breathe and increases the humidity level in grow room.
Air Flow lack of fans in the grow room or grow tent. With no air you get a higher chance of humidity.
Rain and Dew when growing outdoors can linger on your cannabis plants leaves or buds when flowering.
Watering plants at night can also a problem by not letting the water evaporate enough causing high humidity especially when using a grow tent a growing in soil.
Not properly pruning your plants and allowing the buildup of excessive foliage in the undergrowth area of the plant.
Fans can be an issue if there is mildew detected as it is a spore and can be blown around by the oscillating fans in the grow room. Best to turn these off until the outbreak is under control if you can.
Prevent mildew
By knowing the cause of the problem, it becomes a lot easier on preventing mildew from occurring in the first place.
It all comes down to the environment, humidity and giving your marijuana plants some space and keeping moisture levels at a minimum.
It is always good to invest in a small pocket microscope to check on your plants from time to time.
To make sure you do not see any white spots on the leaves or any other issue involving your cannabis plants.
Signs of powdery mildew
Here is a list of signs of powdery mildew to look out for !
White Spots
Appears in clumps of white
Has a flour consistency
Looks like white flour on the leaves
Can be yellow or gray from aphids
How to get rid of Powdery Mildew on Cannabis
There a few different types of treatment you can use to get rid of mildew on marijuana for good before it's too late.
Some range from natural remedies used on house plants.
Others are from organic fungicides or foliar sprays.
One of the first steps to consider is just removing the leaves that are infected before moving on to other solutions.
Natural remedies are one to consider first over the commercial variety if you're into saving a little bit of money and the outbreak is not that severe.
Natural Remedies
These solutions can be found around the house and are safe for leaves and buds.
Baking soda: one teaspoon per gallon of water
Spray solution on your leaves and buds. Check the next day, then spray twice on second day,wait one day if still around repeat
Apple Cider Vinegar: 2-3 teaspoons per gallon of water
Spray solution on your infected leaves. Check the next day, then spray twice on second day,wait one day if still around repeat
Milk mix 1 part milk to 3 – 5 parts water
Spray solution on your leaves and buds. Check the next day, then spray twice on second day,wait one day if still around repeat
I have not tried the milk natural remedy but I have heard from other growers this method works well in the first stages.
One grower has reported he tried a milk solution and was successful.
Mix 400 ml milk to 600 ml water.
Leave the solution in container in the Sun for about an hour. Then spray your plants
Check out the comments for the science behind it.
Hydrogen Peroxide for mildew: Use 1 tablespoon per gallon
Spray solution on your leaves and buds. Check the next day, then spray twice on second day,wait one day if still around repeat.
Potassium bicarbonate which is like baking soda but is much stronger and will kill the spores of the mildew very quickly.
Once the outbreak is beyond manageable with natural remedies, then it means you must immediately move on to tested organic, safe foliar sprays to save your garden.
Natural Organic Products
Neem Oil a natural and organic oil that comes from a neem tree in India.
It's great for removing mildew. It also has additional benefits of being an insecticide and is great killing insects in the garden.
Four teaspoons per gallon of water.
Sm-90 for powdery mildew is a natural product produced from plant oils is a great foliar spray to use to combat mildew and mold and can also enhance root growth.
Making this a great solution and can be used in multiple applications once the mildew is eliminated!
Green Cure Fungicide is for organic production and is made up of a Potassium bicarbonate that stops and prevents powdery mildew.
It's also beneficial for all other fungus infection on your plants.
Green Cure has been tested in over 200 universities and is registered with the EPA
Safergro Mildew Cure is natural fungicide that is safe for organic food production and long lasting to control and prevent powdery mildew.
Banish the name says it all. This will literally banish any powdery mildew on your plants.
What's really cool about his stuff is it works at the root of the fungicide.
Banish also creates a layer over the infected leaf to prevent mildew spots to germinate on contact with other leaves or plants.
This fungicide goes through a micronization process meaning it's oils are shrunk down to 1 micron.
So Banish can really get at the mildew in it's smallest form. You can use this funcide for treatment or even prevention.
Safe for all fruits and vegetables also cannabis, made of all natural materiel it will also bio degrade from your plants and leaves over time as well.
Note : Banish is only available in the United States currently !
Check out the short video on it,
UV Light
UV Clean Light is a new technology to treat plants with UV light as a preventative measure and also in treatment for powdery mildew and botrtis from plants.
You can also clean your grow room walls with this light.
The downside is they are really expensive , especially for the home grower.
UV clean light can definitely be used in a commercial or licensed produced grow operation.
How to remove powdery mildew on buds
I do not recommend consuming cannabis that has powdery mildew.
However there are some ways to wash your buds before you hang to remove white powdery mildew.
It feels a little strange to write about his but I saw it done by the legend Jorge Cervantes so I will say you may be able to remove some of the mold off the buds before drying.
This can be beneficial if you notice you have powdery mildew on youfr cannabis buds in late flower.
I know what about all of the trichomes ! Supposedly they remain.

Here's how it's done:
It's really easy and all you need is,
Water
H2O2 ( hydrogen peroxide 3% solution)
Bin or Container fro water at least 5 gallon size
Drying Rack of some kind
Fan
Ratio for a H2O2 bath for powdery mildew is about 1-1.2 oz. per gallon.
You put 6-8 oz of hydrogen peroxide in a container and then put in 5 gallons of water roughly.
Mix it around.
Then place your newly harvested weed branches and let them sit in the bath for 3 to 5 minutes.
You will see mildew and fungus move to the top of the water, then skim the top of the water to take the scum out.
Take them out of the water GENTLY .
Then wash them again in a clean bath , Jorge uses a hose I would probably give it to another clean just only water bath.
Next Hang the cleaned branches of colas on a rack.
Place a fan in front and let it air dry.
Make sure it is dry before hanging to dry in your designated dry room or tent.
Final Thoughts
A good rule of thumb is to stop the mildew before it happens.
The main thing is to make sure your garden has a favorable environment. That is the key to preventing powdery mildew on cannabis.
Have you had mildew on your marijuana plants?
Did you try these solutions and did they help let me know in the comments
Grow on my Friends