Cannabis growers are often faced with a problem called powdery mildew. This fungus attacks cannabis crops and makes it difficult to cultivate.
Powdery mildew spores are spread through the air and cause plant disease. This impacts cannabis production and even respiratory infections in humans if inhaled.
We will provide tips on how to prevent and remove powdery mildew colonies. So they don't take over your cannabis garden.
What is Powdery Mildew on Cannabis?
Powdery mildew is a fungal disease and is a common, chronic problem on many kinds of plants.
The powdery mildew spores can be spread by wind, animals and by people. It can also be spread by infected plants.
The fungus that causes powdery mildew on cannabis is called Podosphaera-Lecanii.
There are a whole host of fungi that can cause Powdery Mildew.
Some of the more common ones are:
Erysiphe cichoracearum, Sphaerotheca fuliginea, Podosphaera xanthii and Podosphaera leucotricha.
Powdery mildew fungi has been around for thousands of years.
With the increase in cannabis production it is now becoming a common issue.
What Does Powdery Mildew on Cannabis Look Like?
Powdery mildew on cannabis is a fungus that has mold spores.
It appears as a white to off-white powdery layer of growth on the leaves and branches.
It is most often found on both the top and underside of the fan leaves and will appear as a white coating on the leaves.
Powdery mildew on weed looks a lot like dandruff.
The white fungal growth appears on the leaves as a fine coating, and can be seen with the naked eye.
What are the visible symptoms of White Powdery Mildew
Here are some of the signs of powdery mildew spores:
White Spots
Appears in clumps of white
Looks like white flour on leaves
Can be yellow or gray powder
Slow plant growth
How Do Cannabis plants get powdery mildew?
Powdery mildew is caused in various ways and is easily spread.
The powdery mildew fungus grows best in moist conditions and higher humidity weather.
Temperatures between 70-80 degrees Fahrenheit are ideal for powdery mildew production.
Along with a high relative humidity at night and a low relative humidity during day.
Powdery mildew also prefers places that are lacking in air circulation.
That have a high humidity and aren't exposed to much sunlight.
For many growers powdery mildew is common with greenhouse growers and outdoor grows.
Growing indoors is also an issue. The spores usually comes from outside factors such as:
clones
people
pets
or indoor house plants.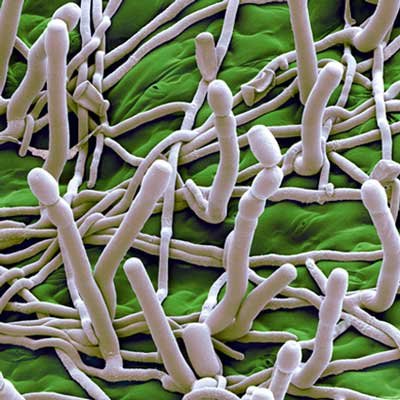 What causes White Powdery Mildew on cannabis plants?
Before we can look into preventing powdery mildew, let's look a little deeper at the cause of the problem.
Clones and young cannabis plants can have powdery mildew hidden.
When growers spray the cuttings before selling.
You will not notice until two weeks later when the spray wears off!
High Humidity can play a huge factor in developing powdery mildew.
Anything over 60 percent humidity can significantly increase your chances of getting mildew.
OverCrowded Plants when plants are confined in tight spaces.
Like (sea of green) they cannot breathe and increase the humidity level in the grow room.
Air Flow with the lack of fans in the grow room or grow tent. With no air there is a chance of high humidity.
Rain and Dew issues when growing outdoors.
Water can linger on your infected plants leaves or buds when flowering.
Watering plants at night or lights out can also be a problem.
By not letting enough of the water evaporate with standing water.
Thus causing high humidity especially when using a grow tent growing in soil.
Not defoliating your plants. Allowing the buildup of excessive foliage in the undergrowth area of the plant.
Fans can be an issue if there is mildew detected. Because the spores and can be blown around by the oscillating fans in the grow room.
Best to turn these off until the outbreak is under control if you can.
How to Treat Powdery Mildew
There are many ways to get rid of powdery mildew on weed plants.
Some ways are the use of natural or home products. Or fungicides and foliage sprays to UV lights and special air filters.
The first steps to take are to remove the affected leaves on the infected plant that has the fungus.
You may also want to isolate and remove the whole infected plant. To make sure it will not affect the rest of the marijuana plants growing.
This is an extreme measure but one to consider.
Picture courtesy of Outer Elements Photography (Instagram)
How to Eliminate White Powdery Mildew
Trying to completely eliminate powdery mildew is very hard. Once it reaches inside the cannabis plant it becomes systemic.
The powdery mildew spores are nearly impossible to remove.
It is best to catch it in the early stages, and use some of the methods such as fungicides or other means to kill the fungus.
Or use preventative maintenance
Here are some ways to remove mildew on weed from your cannabis crop.
Natural Remedies
These solutions can be found around the house and are safe for leaves and branches.
Baking soda: one teaspoon per gallon of water
Spray solution on your leaves and buds. Check the next day, then spray twice on second day,wait one day if still around repeat
Apple Cider Vinegar: 2-3 teaspoons per gallon of water
Spray solution on your infected leaves. Check the next day, then spray twice on second day,wait one day if still around repeat
Milk mix 1 part milk to 3 – 5 parts water
Spray solution on your leaves and buds. Check the next day, then spray twice on second day,wait one day if still around repeat
I have not tried the milk natural remedy. But I have heard from other growers this method works well in the first stages.
One grower has reported he tried a milk solution and was successful.
Mix 400 ml milk to 600 ml water.
Leave the solution in a container in the Sun for about an hour. Then spray your plants
(Check out the comments for the science behind it.)
Hydrogen Peroxide for mildew: Use 1 tablespoon per gallon
Spray solution on your leaves and buds. Check the next day, then spray twice on the second day,wait one day if still around, repeat.
If you have moldy bud use hydrogen peroxide water bath to wash it off.
Potassium bicarbonate which is like baking soda but is much stronger. It will kill the powdery mildew spores very quickly.
Once the outbreak is beyond manageable with natural remedies. Then it means you must immediately move on to tested organic, safe foliar sprays to save your garden.
Natural Organic Products
Neem Oil a natural and organic oil that comes from a neem tree in India.
It's great for removing powdery mildew.
Neem oil also has additional benefits of being an insecticide. You can also use it to kill insects in your cannabis crop.
Four teaspoons per gallon of water.
Green Cure Fungicide is for organic production and is made up of a Potassium bicarbonate that stops and prevents powdery mildew.
It's also beneficial for all other fungus infection on your plants.
Green Cure has been tested in over 200 universities and is registered with the EPA
Safergro Mildew Cure is natural fungicide that is safe for organic food production and long lasting to control and prevent powdery mildew.
Banish the name says it all. This will literally banish any powdery mildew on your plants.
What's really cool about his stuff is it works at the root of the fungicide.
Banish also creates a layer over the infected leaf . To prevent mildew colonies from germinating on contact with other leaves or plants.
This fungicide goes through a micronization process meaning it's oils are shrunk down to 1 micron.
So Banish can really get at the mildew in its simplest form. You can use this funcide for treatment or even prevention.
Safe for all fruits and vegetables and also cannabis. Banish is made of all natural material it will also bio degrade from your plants and leaves over time as well.
Note : Banish is only available in the United States currently !
Check out the short video on it,
UV Light
UV Clean Light is a new technology to treat plants with UV light. The lights can be used as a preventative measure.
They are also used in treatment for powdery mildew and botrytis from plants.
You can also clean your grow room walls with this light.
The downside is they are really expensive , especially for the home grower.
UV clean light can definitely be used in a commercial or licensed produced grow operation.
How to Kill Powdery Mildew on Cannabis During Flowering
It is very hard to remove powdery mildew when your plants are flowering.
If you catch it early enough you can apply some type of fungicide or natural sprays in the first couple weeks.
Such as Banish, hydrogen peroxide, green cleaner, apple cider vinegar.
You would want to apply this before any major trichome development starts.
Or you could remove all leaves infected and even the buds to save the rest of your cannabis crop.
If there is powdery mildew after the first couple of weeks , it's very hard to remove.
You could also check out this post on how to bud wash it off after harvest.
How to Prevent Powdery Mildew on Cannabis
There are many ways to prevent getting a powdery mildew infection with your plants.
Control the temperature and humidity when growing indoors.
Growing outdoors makes sure the leaves on the plant are not wet for extended periods of time.
Defoliate your plant from getting to bushy
Spray with a product for protection
Space plants apart so they are not touching each other in the grow area
How Long Does It Take for a Plant to Recover from Powdery Mildew?
Depending on the outbreak of powdery mildew and when you notice it.
With proper treatment and elimination of fan leaves or plants. It can take anywhere from one or two weeks.
Final Thoughts
A good rule of thumb is to stop the powdery mildew before it happens.
The main thing is to make sure your cannabis garden has a favorable environment.
With proper temperatures and humidity levels. Air flow and spacing between plants.
That is the key to preventing powdery mildew on cannabis.
Have you had powdery mildew infestation on your marijuana plants?
Did you use any of these solutions?
Let me know in the comments.
Keep on growing.
Reference:
https://extension.psu.edu/powdery-mildew
https://plantpath.ifas.ufl.edu/u-scout/cucurbit/powdery-mildew.html
http://website.nbm-mnb.ca/mycologywebpages/NaturalHistoryOfFungi/Conidia.html