When you become an Emperor, sometimes you get a marijuana strain created just for you.
That's what Ben Dronkers from Sensi Seeds did to honor and pay tribute to his friend Jack Herer back in 1994 at the Cannabis Castle.
​
​
​Imagine your very own plant made for you.
Just to let you know.
This will not be a regular Jack Herer review.
It dives deeper.
This could help you when looking for some Jack Herer seeds, buds, or concentrates.
Getting to know the weed you smoke makes for a great conversation and a better appreciation.
In this review there is everything you will want to know and more.
Where to Buy
THC, CBD, CBN Amounts
Effects
Medical Benefits
Genetics
Terpene Profile
How to Grow
Awards
History and Origins
​
​Jack Herer Review
I get this question a lot:
"How do you pronounce Jack Herer?"
The answer is:
It sounds like "HAIR" "ER."
A Jack Herer plant with Resinous Buds.
Where to buy Jack Here Strain
If you live in the United States and in a state that is legal to purchase please check out Weed Maps for Jack Herer on prices, stock levels and locations nearest you !
Where to Buy Jack Herer Seeds
​
If you are interested in growing this strain here is a list of the reputable online seed shops that I recommend.
SeedsMan for all types ranging from regular, feminized, auto flowers.
​
Jack Herer Genetics
​
With the genetics of the Jack Herer strain remaining a mystery, there have been some educated guesses on the phenotypes it has.
It is believed to be the cross of three strains: Skunk #1, Northern Lights #5, and Haze.
Skunk #1, Northern Lights #5, and Haze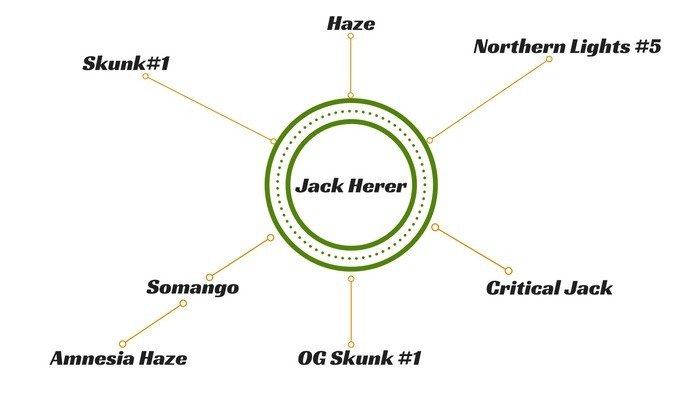 Here are just few of the Jack Herer Hybrids.
​The Jack Herer is a parent to a number of hybrids:
Somango, Amnesia Haze, Critical Jack, OG Skunk #1
Profile Count
Indica: 60%
Sativa: 40%
THC, CBD,CBN Average Count
​
The Jack Herer THC count starts at 14 % and goes up to 24% .
Jack Herer Terpene Profile
​
Jack Herer buds smell like lemon and pine, with a hint of pepper.
Upon consuming the herb, it has a peppered piney citrus taste.
The following terpene markers contribute to this.​
Data From Analytical 360
A-Pinene 0.03% – Pine
B-Pinene 0.01% – Rosemary
Linalool 0.01% – Lavender
Myrcene 0.02% – Mango
Caryophyllene 0.14% – Pepper
Humulene 0.01% – Hops
Beta-Caryophyllene 22% – Cloves
Terpineol 0.01% – Lillac
ox-Caryophyllene 0.01​​​​​% – Basil
Limonene 0.01% – Lemon
​
Medical Uses
​
The medical uses of Jack Herer that it works well with:
Neurological Disorders including
Bipolar Disorder
Anxiety
Migraines
PTSD
ADHD
Some veterans find this strain helps.
Effects / Experience :
The effect of consuming Jack Herer are Euphoric, energizing, creative, cerebral.
Daytime use recommended.
How to Grow Jack Herer
​
Jack Herer, it's an excellent starting plant for beginners.
The plants can grow in any growing medium from hydro to soil. You can also use the SCROG method.
The plant can also be grown indoors or outdoors with great success.
The Jack Herer yield per plant varies from 300- 400 grams per plant per meter squared and grows to a height of four to six feet or 2-3 meters tall.
The Jack Herer flowering time takes around eight to nine weeks.
When growing Jack Herer weed outdoors, harvest time is the end of September or early October for the Northern hemisphere.
The Southern Hemisphere is on average April or May.
The temperatures for the plant are suitable for mild temperature areas
​
Grow Points​​​​​
Yield: Up to 400gr indoor / 300 gr outdoor
Height: 3 feet tall indoors, reaching 6 feet tall outside.
Difficulty: Easy
Flowering time: 8-9 Weeks
Outdoor Harvest North hemisphere: End of September start of October in the Northern Hemisphere with a production up to 300 grams per plant.
Outdoor Harvest South Hemisphere: April or May.
Climate: Good for mild, temperate areas.
Growing Medium: Soil or Hydroponic with Scrog
Environment: Indoors or Outdoors
Check out the video on growing the Jack Herer,
Top Awards
The strain from Sensi Seeds was named after the "Emperor of Hemp" Jack Herer.
The plant is a multi-award winner and has gone on to win countless awards, including 2 Cannabis Cups and twelve High Life Cups.
The Jack Herer marijuana plant is amongst the most recognized and famous in the world.
The plant is a living tribute to a legend in the marijuana community that continues to grow over time.
Jack Herer Cannabis Cup is a new competition held in Las Vegas every year!
For tickets check out the website The Jack Herer Cup
Origins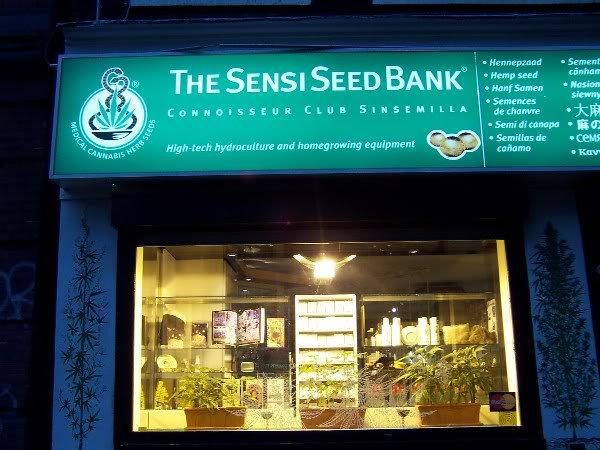 Origin: Netherlands, Sensi Seeds
Who is Jack Herer?
​
Jack Herer was an activist and marijuana crusader and writer.
He often advocated the benefits of the cannabis plant in all aspects of society from a fuel source and clothing to medicinal use.
Ironically in his earlier years, he was military police during the Korean War and was totally against marijuana.
It wasn't until the mid-sixties did Jack get turned on to cannabis.
About twenty years later in 1985 he wrote the famous book called "The Emperor Wears No Clothes".
He gathered as much information he could find from history to industrial use, medical benefits to backup the claims.
The book is a great read if you are interested in Marijuana. I highly recommend it. Its available here for free.
Jack continued to be a great advocate for the cause of legalization and use.
He ran for President of the United States 2 times once in 1988 and then in 1992. According to Presidents USA .
Jack passed away in 2010, but his memory will live on forever.
I hope this Jack Herer review will give you a better understanding of this type of strain and help you make a decision when looking for it.
Have you tried Jack Herer?
What are your experiences and thoughts on herb?
Let me know in the comments.