If you're growing cannabis plants indoors one thing that is overlooked by growers is protecting your eyes.
You usually focus on everything else in the grow with the nutrients, temperature, humidity and the plant's health.
We should also focus on our health as well.
A pair of grow light glasses can help shield your eyes from the damaging light caused by LED and HPS/MH bulbs.
It's also not recommended to use sunglasses.
They do not protect your eyes properly from the grow lights UV light spectrum.
You cannot see the exact color of the plants even when using polarized sunglasses.
If you're looking for a new pair of grow light glasses or researching which ones are right for you.
This post will provide you with great information to make a focused decision on an affordable pair of grow glasses.
Whether you're growing from home or in the cannabis industry.
What to look for in Grow Glasses
There are many things to consider when looking for grow light glasses.
Protection: How much do they provide.
Do the glasses offer all three UV light or do they offer only the two primary UV light spectrum's?
Durability: how long will they glasses last ?
Different types of lens, plastic or glass
Affordability spending more may be worth it in the long run, but if you're on a budget there still good options out there.
Which lights they protect from, LED HPS or MH bulbs.
The combination glasses out there are not as focused on the specific models available for the same lights.
Different styles available some only come in distinct styles, while others have multiple styles and price ranges.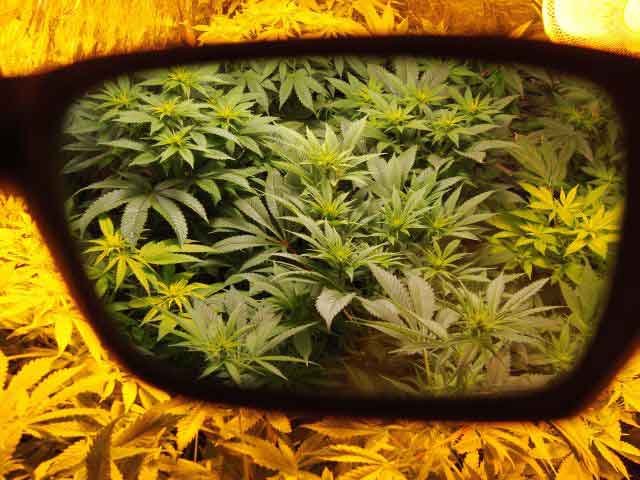 The Best Grow Light Glasses
These are the Top grow room glasses on the market to protect your eyes:
Method Seven Operator LED Grow Room Glasses
The Method Seven Operator LED glasses are a top of the line for growing in Led light.
The glasses offer spectacular protection going a step above the other pair of glasses on the market.
To protect the user against UVC, infrared and the usual UVA, UVB that causes a damaging spectrum from grow light to your eyes.
These method seven led glasses are a wrap around style and have real glass.
The lenses are made by Carl Zeiss ( some fancy eyeglass guy in Europe.)
You can see precise true color when in the grow room and they even offer a 30-day money back guarantee.
They can be used in big scale operations of 10,000 watts or more.
Apollo Horticulture UV400 LED Grow Room Glasses
The Apollo Horticulture UV400 LED glasses are made especially for LED lights from Apollo.
You can also use these glasses for under all types of light such as HPS, MH light bulbs.
It is not recommended by to be used over top of your prescription eye wear.
The glasses block out harmful UVA, UVB from your grow lights to protect your eyes from harmful damage.
A cost effective part if you do not want to spend a lot of money.
VIVOSUN Indoor Hydroponics Grow Room Glasses
The VIVOSUN Indoor Hydroponics Grow Room Glasses are a wrap around style that protects your eye from UVA and UVB light.
These glasses are suitable for HPS and Metal Halide bulbs.
The glasses offer an 180-degree full view of your plants without distortion.
For the price the can be a steal.
Although when trying to take a picture through them they have been reported as not suitable.
Grow1 Gruve Indoor Grow Room Glasses
The Gruve Indoor Grow Room Glasses are a simple wrap around style glasses that offer UV light protection.
The gruve HPS glasses are a quality pair of glasses that come with plastic lenses and frames.
They also work with MH bulbs as well, which makes these glasses very versatile.
Apollo Horticulture Prescription Wear Over Glasses
The Apollo Horticulture Prescription Wear Over Glasses these are perfect if you have prescription glasses.
You can easily place them over the glasses and see a clear view of your plants with no squinting!
They are designed for LED, HPS or MH bulbs.
For the price, you cannot go wrong.
There is no need to use your prescription glasses anymore to see what's going on.
Why you should use Grow Glasses
The main reason to use grow room glasses is the irreparable damage it does to your eyes.
It's not noticeable right away.
Different UV light causes various types of damage to the eyes.
UVA causes cataracts, UVB causes eye burns. UVC causes eye burns as well. According to Washington University.
Another benefit is to be able to see the actual color of the plant to find problems such as with insects like spider mites or root aphids.
Problems like powdery mildew and nutritional deficiencies such as Potassium or calcium.
It's important to locate the problem when they are little before they become significant problems and can ruin your grow.
Every grower should have a pair even if you're just starting out and do not have a lot to spend.
You can always start small and advance from there.
But protect your eyes from the beginning so you're not one of those growers out there who need someone else to check their buds for them.
Final Thoughts
There are many different versions of growing light glasses on the market from many companies.
I have provided the most affordable selections to choose from.
You could pay $180 for a pair of grow room shades if they do both the job indoors and out, or you can save a little cash and put it towards other things in your grow.
I prefer to do that and I also wear prescription glasses and currently grow in LED.
Just waiting for another company to come out with that version to go over your glasses.
I have heard the Apollo ones are ok.
There are some great grow light glasses out there.
I have used both the Method Seven and the Apollo LED glasses but I find I use the Method Seven LED glasses more often.
They are clear, and I can even put them over my regular glasses although it's not the best way to use them but they work for now.
I hope this review will make your decision easier!
Keep Growing my friends.