The famous White Widow strain.
The origin surrounded in mystery and some controversy.
White Widow was made public in 1994 from GreenHouse Seeds.
Which then won first place at the BIO Cup(High Times Cannabis Cup) in 1995.
The history of the White Widow marijuana plant has two different stories from two sides of the same coin.
There is always three sides to every story.
And I am on the side of the plant.
From the information that is out there on the web and that has been around for the past two decades from different sources, and all the rumors.
Here is a brief look into the history,
Around the year 1987 a breeder named Ingemar De Sjamaan who developed a strain called Arnhem's Wonder which later went on to win the High Life Cup in 1989.
In a German magazine publication called GROW, it is noted that Ingemar stated as the creator of White Widow. See full translated version here:
On the De Sjamaan webite
According to Arjan from Greenhouse Seeds he purchased some plants from Ingemar in 1992.
Quote from SeedFinder EU
Ingemar (De Sjamaan) invented WW already in 1987. […] It was called Arnhem's Wonder and already won the first HL cup in 1989. […] For those who don't believe this, please call Coffeeshop Catweazle or Roger from the grow shop; they worked with Ingmar for a long time. Roger has always sold the clones he had. He had a famous grow shop in Nijmegen. I bought the male and female among other plants in 1992 and only crossed them in 1994. I did not have to do any breeding on the White Widow at that time because Ingemar had already done it for us. And to this day, you can still buy original clones of the White Widow in that area of Holland."
Which later were bred on to be White Widow in 1994 and then onto win the BIO Cup in 1995
Alternate version of White Widow
Enter another breeder who at the time in early 1990's was working at GreenHouse Seeds an Australian Scott Blakey or AKA Shantibaba.
When traveling to Southern India one year came upon a farmer in the Keralan region who stuck up a conversation and offered a joint.
Then took Shantibaba back to his farm and showed him his marijuana plants a type of Indica.
Shantibaba was impressed by the strength of the plant offered to buy some seeds and brought the seeds back to the Netherlands.
Later it is believed the seeds had been crossed with a pure Brazilian Sativa, the landrace Manga Rosa or similar.
Shantibaba has been very outspoken on the origin of the White Widow marijuana plant.
Soon after there was disagreement within Greenhouse Seeds and Shantibaba for what is unknown.
In 1998 Shantibaba left GreenHouse to go on to form Mr. NIce Seeds with Howard Marks and Neville Schoenmaker .
Taking the White Widow he bred and then named it under the name "Black Widow".
Because GreenHouse Seeds was already marketing it under the strain White Widow.
So there you have a two different short stories on the history of this strain.
As stated earlier, I am not on either side except that this is a classic from 1990.
That has stood the test of time and now has many phenotypes underneath its genetic profile.
​
Lineage of White Widow
The genetics originated from an Indica plant in the Southern India Keralan region.
Crossed with a pure Brazilian Sativa presumably the landrace Manga Rosa or similar.
White Widow is the parent to a number of great hybrids that include :
Black Widow to White Rhino, White Cookies
​
Profile Count
Indica: 60%  Sativa: 40%
The White Widow THC Level starts at 16 % and goes up to 27%
Terpene Profile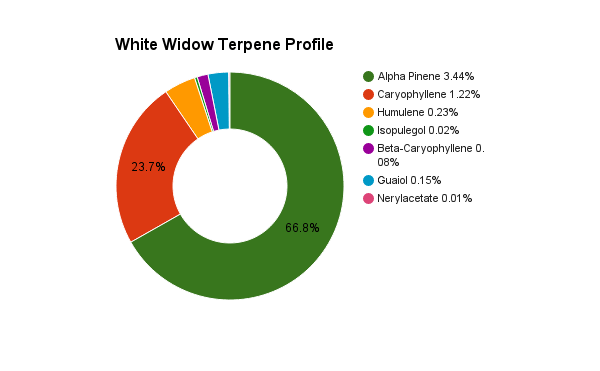 The terpenes of the White Widow consists of the following markers:
Reported flavor of woody , pepper, and hint of citrus
A-Pinene 3.44% – Pine
Caryophyllene 1.22% – Pepper
Humulene 0.23% – Hops
Beta-Caryophyllene 0.08% – Cloves
Isopulegol 0.02% – Mint
Guaiol 0.15% – Pine
Neryl-acetate 0.01% – Citrus
​
Medical Uses
White Widow is a great for medical issues that include:
Depression
Stress
Post-traumatic stress disorder
Chronic pain
Anxiety
Relieve headaches, migraines.
Effects / Experience :
The effect of consuming White widow are a Happy, Euphoric, Uplifted with being Relaxed, Creative.
Evening use recommended. Or daytime use for some.
Growing White Widow
The White Widow marijuana plant is perfect for beginners and is very easy to grow.
The plants can grow in any medium from hydro to soil. And also, works well with the SCROG method.
The strain can also be grown indoors or outdoors with great success. The white widow yield varies from 300- 500 grams per plant on average.
Grow to a height of three to six feet or 1-2 meters tall.
When the white widow flowering time takes around eight to nine weeks.
When growing white widow outdoors the plants are usually ready around the end of September or early October for the Northern hemisphere.
In the Southern Hemisphere, around spring time
The temperatures for the plant are suitable for mild temperature areas
Grow Points​​​​​
Yield: Up to 400gr indoor / 300 gr outdoor
Height: 3 feet tall indoors, reaching 6 feet tall outside.
Difficulty: Easy
Flowering time: 8-9 Weeks
Outdoor Harvest North hemisphere: End of September early October
Outdoor Harvest South Hemisphere: varies upon climate.
Climate: Good for mild, temperate areas.
Growing Medium: Soil or Hydroponic with Scrog
Environment: Indoors or Outdoors
​
Check out the video below for a better feel on the growing this fantastic strain,
​
​
Top Awards
White Widow has won countless awards approximately over 25 from various seed houses and competitions here are just some of them:
1996: 1st Place – High Times Cannabis Cup
1995: 1st Place – High Times Cannabis Cup (Bio Cup)
1989: 1st Place – High Life Cup with the name Arnhem's Wonder
Where to buy White Widow
​If you live in the United States and live in a state where it is legal for purchase please check out Weed Maps for White Widow price, stock levels and locations nearest you !
Where to Buy White Widow Seeds
If you are interested in growing the White Widow here is a list of the reputable online seed shops that I recommend.
It's very easy to grow give it a try.
It's one of my favorites.
Have you tried the White Widow or grown it before?
Let me know in the comments.