The Master Kush strain is a classic; it was developed in the early nineties in Amsterdam.
The origins of this strain are from two parents from three different regions in the world, and those are the Hindu Kush and Skunk#1.
It was called High Rise back in the day when it was floating around coffee shops before becoming famous and winning awards.
The name High Rise is because it was created in a high-rise apartment block. Later renamed to Master Kush, the strain has come a long way since then.
Master Kush has won the Cannabis Cup back to back in 1992, 1993.
This strain has again risen in popularity with artist like Snoop Dog having is a line of marijuana strains like Snoop's Dream.
With Master Kush and Blue Dream cross.
Master Kush is widely used for its medicinal properties and works well for chronic pain, muscle spasms, anxiety, and insomnia.
If you plan on growing this strain, you're in for a treat, unlike other Kush strains the yield on the Master Kush is higher than normal.
This plant is better suited to be grown indoors, contrary to some Kush strains out there.
The light green buds are dense and filled with resin.
She takes her time to flower, but the wait is well worth it. I got my seeds from Seedsman.
The strain is also a parent to some strains Granddaddy Purple, Master Orange to name a couple.
When consuming Master Kush herb, it has a musty, earthy pine taste, and the effects felt throughout the body, with a more clearer head than other Kush strains around.
For some experienced smokers, can have it any time of the day.
But is recommended for evening use for most.
​
Where to buy Master Kush
If you live in the United States and in a state that is legal to purchase please check out Weed Maps for Master Kush on prices, stock levels and locations nearest you !
Where to Buy Master Kush Seeds
If you are interested in growing this strain here is a list of the reputable online seed shops that I recommend.
Master Kush Genetics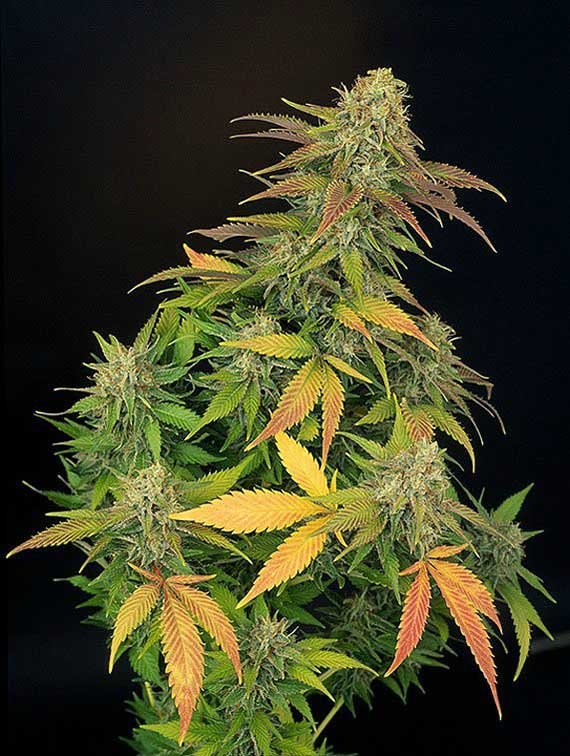 Hindu Kush and Skunk#1
The Master Kush is a parent to a wide number of strains some of them include : Misty Kush, Grand Daddy Purple, Master Orange, Snoops Dream.
Profile Count
Indica : 70 %
Sativa: 30 %
The THC count starts at 13 % and goes up to 25 % . It has a higher CBD and CBN properties.
Master Kush Strain Terpene Profile
A-Pinene 0.01% – Pine
B-Pinene 0.01% – Rosemary
Myrcene 0.01% – Mango
Caryophyllene 0.46% – Pepper
Humulene 1.35% – Hops
Limonene 0.01% – Citrus
Terpineol 0.01% – Lillac
​
Medical Uses
The Master Kush strain is commonly used for the following conditions:
chronic pain
pain
muscle spasms
stress
anxiety
insomnia
Effects / Experience
The effects of consuming Master Kush are some user have Body stone , happy, Uplifted, creative. Evening or day time  use recommended
How to Grow Master Kush
​
Growing the Master Kush strain, the yields are more than the average Kush plant.
Although the plant is not easiest to grow, once you dial her in it's worth it from there.
This type of Kush strain grows well in all mediums, and you can use the scrog method.
When growing Master Kush outdoors it does not do well in a colder climate this is not a hearty plant.
It is much better grown indoors for the full benefits.
If growing outdoors look to harvest at the end of October hopefully before the first frost in the northern Hemisphere.
When growing in the southern hemisphere late April.
The Master Kush flowering period is a little longer than some going from nine to eleven weeks to mature with nice resinous buds.
That are sticky to the touch.
Grow Points​​​​​
Yield: Up to 400-500gr indoor / 400 gr outdoor
Height: 3 feet tall indoors, reaching 5 feet tall outside.
Difficulty: Medium
Flowering time: 9-11 Weeks
Outdoor Harvest North hemisphere: End of October
Outdoor Harvest South Hemisphere: Toward end of April.
Climate: Good for mild, temperate areas. Not suitable for cooler temperatures
Growing Medium: Soil or Hydroponic with Scrog
Environment: Indoors or Outdoors
Top Awards
The iconic Master Kush won the Cannabis Cup two years in a row back in 1992, 1993.
​I personally enjoy the Master Kush strain any time but mainly during the day.
An award winner that once you grow this plant you can see why.
Have you tried master kush , or grown it before ?
Let me know in the comments.​
image credits: Image